Rauschenberg Residency has mangroves at the edge of the shoreline– something its Captiva neighbors (especially the mansion just to the south of the property!) should emulate.  Doing so provides important habitat for marine life .  The mangroves also help address issues of erosion and provide a buffer to hurricane winds.
All that is good, but I propose that we go a step further: Let's return a larger portion of the property to its original habitat.  Let's reclaim it for wetlands.
The mangroves at the Rauschenberg Residency are followed by lawn and landscaped gardens as we move upland.  Returning the lawn to wetlands– specifically a mangrove forest– would be a welcome gesture to address the rising seas.  As sea levels rise, having a larger and stronger  coastal habitat will provide more resilience –and the requisite space (and time) for the forests to adapt.
Mangroves matter: Mangroves are important for they create the interface between land and water where marine life takes hold.  Small fish find refuge from predators in their intricate roots, which also serve to protect the shoreline from erosion during hurricanes. (http://www.reclamationproject.net/?M_index)
Prelimanary sketches to the RRr
Here's a link to the 
USGS
 website on how wetlands will adapt to sea level rise: 
http://wh.er.

usgs

.gov/slr/coastalwetlands.html
.  It addresses the issue I was presenting to the Rising Waters group about Dr. Tom Smith's research on mangroves in the Everglades:  whether wetlands are able to build vertically to keep pace with increases in sea level.
"In marshes where soil volume decreases due to either insufficient inorganic sediment input or decreases in plant growth, the marshes are less capable of maintaining their elevation as the average water level (mean sea level) increases and consequently they become prone to deterioration.

The loss of wetland habitats and the important ecosystem functions they provide is a critical concern.  Wetlands provide critical habitat for wildlife; trap sediments, nutrients, and pollutants; cycle nutrients and minerals; buffer storm impacts on coastal environments, and exchange materials with adjacent ecosystems.  As wetland habitat is lost, there will be significant impacts to other ecosystems.  To complicate the issue, large portions of the coastal environment have been developed and management practices may affect ecosystem responses to sea-level rise as well.  This will exacerbate the vulnerability and impacts to plant and animal species in coastal regions.  Of particular concern are the impacts to environments such as wetlands that are critical to support migratory bird populations and fisheries.

Understanding whether or not marsh systems can tolerate higher sea level requires knowledge of whether the present–day marsh surface is able to maintain elevation with respect to SLR.  To monitor marsh surface elevation trends, 

USGS

 scientists have developed tools to measure changes in surface elevation in marshes (Fig CW2, 

http://www.pwrc.

usgs

.gov/set/

)."
Below is a link to the Reclamation Project installation we did up the coast in Pinellas County.  I am creating a similar temporary installation on the glass door in the studio.
Coastal Reforestation: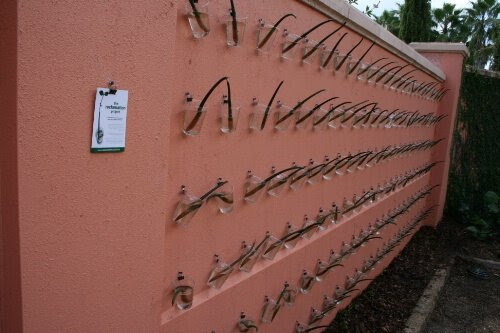 On November 18, 2008, Cortada joined USGS's Dr. Tom Smith and the Shorecrest Prep students in dedicating the mangrove "re-permnanent" installation he created at the Florida Botanical Gardens.
The eco-art installation, commissioned by Pinellas County Public Art and Design Program, features one-hundred fifty red mangrove seedlings in clear water-filled cups.  In September 2008, Dr. Smith led the Shorecrest Preparatory School students in collecting the mangrove propagules from Weedon Island Nature Preserve.  In 2009, students will plant this installation's seedlings on Tampa Bay and replace them with a new batch.
Dr. Tom Smith, a scientist based at the U.S. Geological Service in St. Petersburg, FL, is internationally recognized as an expert on coastal ecosystems in general and mangroves in particular.  He has worked in forests in Florida, the Virgin Islands, Belize, Australia, Papua New Guinea, and elsewhere throughout Asia and the Pacific.  His research is aimed at understanding disturbance, both natural and man-made, and recovery in these important forests and especially at how to restore them.